Quick Links:
Final Fantasy: The Spirits Within Interview Series - Hironobu Sakaguchi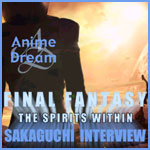 Interview with: Hironobu Sakaguchi
Interviewed by: Sumire Kanzaki on October 2nd, 2001
Location: Phone Interview, Hawaii
Publication Date: October 3rd, 2001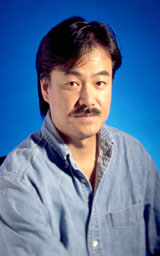 Known for creating the Final Fantasy series, and his involvement in the production of several other popular Square games, it came as quite a surprise when Square and Mr. Sakaguchi announced plans to direct a full-length theatrical feature. Less surprising was the fact the game would be in full CG; Square has constantly pushed the envelope over the past few years with their in-game CG.
Speaking through a translator, I had the great opportunity to query Mr. Sakaguchi about Final Fantasy: The Spirits Within; Final Fantasy: Unlimited, the new Final Fantasy anime series; and the rumors surrounding his future at Square. For being Square's first movie, Mr. Sakaguchi was quite pleased with how Final Fantasy: The Spirits Within turned out. The film has recently been released in Japan, and when asked, it was reported that it had been receiving fairly good numbers at the box office, and had generally been well received. There's been much curiosity and speculation as to why the film was released in the US and Europe, where the film has done very well, before making its way to Japan. Mr. Sakaguchi indicated that Final Fantasy's Japanese release was based on the scheduling of other films being released during the same time frame.
Final Fantasy far exceeded its budget towards the end of filming. New funds had to be procured to help fund the rising cost of development for the realistically animated movie. Expenses continued to rise, and salaries for the staff had to be maintained. Being able to work in such a broad medium as film didn't impose any limitations on Sakaguchi's vision. He felt as if his idea fit well within the film's 100 minutes. In spite of the lack of limitations, script rewrites still took place, mostly early on in the production. Retooling was necessary, however, to fully communicate the director's vision. That vision includes a very Eastern philosophy on life, which some may think would be difficult for Westerners to comprehend. When asked, Mr. Sakaguchi dismissed this, as most of the movie's staff were of Western origin and had no problems grasping the concept.
Early on, it was planned that Final Fantasy would be filmed completely in English, making it necessary to have an English screenwriter. There was a selection process, where various ideas were discussed. In the end, though, Mr. Sakaguchi chose a writer that he felt could best communicate his concepts for The Spirits Within.
Aki Ross, the heroine of the movie, has gone further than just being a digital actress. An issue of Maxim turned the bikini-clad Aki into a virtual sex symbol. Currently there is talk of making Aki more active as a concept, but there aren't any firm ideas at this time. And unlike many movies, there will be no game adaptation for Final Fantasy; Mr. Sakaguchi noted the lack of powerful game hardware, which would negatively impact the imagery found in the movie. In other words, a game based on the movie would be far too much of a step down visually to be considered. The technology developed for the film has already found its way back to Square's Japanese studios, and should be utilized in further productions, including games and other forms of media.
Cooperation from major Hollywood talent for the voice roles was extremely important in the making of the movie. There were difficulties in contacting the various actors, but once accomplished, everyone involved was very interested and willing. Considering the importance good voice acting has in Japanese animation, Mr. Sakaguchi thought it was equally as important in the selection of the Japanese voice actors for the release in that market. Creating a movie in English posed no hardship on the staff. When asked for his thoughts, the director laughed and said it was to his advantage, since he didn't have to yell directions during the production. In retrospect, considering the groundbreaking production, Mr. Sakaguchi didn't feel as if he would have changed anything given the chance. To him, it was a sheer achievement to create a fully digital movie. He also greatly enjoyed directing Final Fantasy, primarily for the accomplishment. His joy came from finishing the film; if it had been otherwise, he would have definitely felt differently.
Lara Fabian and L'Arc-En-Ciel were two unlikely choices for the film's soundtrack, considering neither is well known in the US. Fabian had recently moved to Canada from her native Belgium and Mr. Sakaguchi had been introduced to her through Sony Music. Sony was looking to break her into the US market, and Sakaguchi felt that her voice fit the film well. L'Arc-En-Ciel, the popular j-rock band, was also looking to become a more international presence and decided to contribute a song to the film's soundtrack, as well as to provide a counter-balance to Lara Fabian.
Imagery is the consuming element in The Spirits Within. Watching it at times will make you forget it's not real actors on screen. In general, the director feels that all elements contribute equally to making a great film, but in Final Fantasy that the film's look played the most important role. Realistic characters were needed to accurately portray the story.
It had previously been announced that two more Final Fantasy movies were planned, but after the completion of this interview, Square announced its intentions to stop film production at Square Studios in Hawaii. There's no word yet if film production will take place at one of their other production studios, either in Los Angeles or Japan. Sakaguchi did comment that there were ideas circulating about two more movies, possibly including Aki as a character. The new films would have different themes and stories. There had even been one idea to make a more family-oriented film. Square Studios in Hawaii will remain open, however, and devote its resources to other projects.
Recently rumors had begun to circulate that Sakaguchi was planning on leaving Square to head up his own production studio. The director assuaged our fears and mentioned that he has a secure contract with Square.
A new Square anime series, Final Fantasy Unlimited, began airing in Japan on October 2nd. Akitoshi Kawazu, the director of the SaGa series, who was also involved in the making of the original Final Fantasy, developed the initial concept for the series. The show takes place in a parallel world and "leans towards game creation." In shock and surprise, I asked Mr. Sakaguchi to clarify; was he indicating that a new game is in the works, based on Final Fantasy Unlimited? Not just a game but a game series, he replied. Currently they weren't sure if the game series would be called Final Fantasy Unlimited. The game is still in the development stages, and no console system has been decided on officially. Akitoshi Kawazu would be the director for this new series, however.
I decided to ask Mr. Sakaguchi an off-the-wall question, since everything else had been so serious. Considering that this was his first opportunity to direct a movie, bearing the name of one of the most popular video game series in the world, what non-Square titles did he feel he would enjoy making into movies? At first he said Dragon Quest, but later mentioned Metal Gear Solid, based on the game's stellar cinematics.
Anime Dream and myself would like to thank Mr. Sakaguchi for his time and thoughts on his recent work. We would also like to thank Hiroshi Tanaka, who served as translator for the interview, Square USA for their cooperation, and Carl Samrock Public Relations for organizing the interview.