Quick Links:
Noir: Sights and Sounds
ADV today released the first DVD volume of what is sure to be one of most discussed shows of the year, Noir. The show follows the exploits of two female assassins seeking answers to their pasts and of the legendary name Noir, which they have taken as their own. Oh, and they kill lots and lots of people along the way. Lots. Quite gracefully and with some stirring musical accompaniment, but the body count is markedly higher than your average show, let alone a show that is decidedly in the 'Drama' category, as far as overall storyline goes. Ah, enough with the editorial - you people want your media.
Immediately below my words you will find four choice pieces of artwork from the Newtype art book, Le Deux Vierges (ISBN 4-04-853423-8). Further down, we've sets of screenshots from various episodes in the show to showcase some of the beautiful visuals you'll find. To round off the images, we've also included two seperate images of the DVD cover art for the Japanese release of the show, which, if the first volume of ADV's domestic release is any indication, should be the same for the U.S.
And finally, at the bottom, we've got a four Real Audio samples of songs from the first two soundtracks for the anime, all of which are composed by the incomparable Yuki Kajiura. The songs featured are song that weren't already sampled in AD's reviews for the first and second soundtracks. They're also something of a special, as they are full-length samples, as opposed to our new standard "clipped" samples for music reviews. They still can't compare to CD quality, though, and are meant to drive home why you need to own these albums, regardless of whether or not you end up liking the show itself.



Mireille Boquet, an assassin who has taken to calling herself the myth-like Noir, and one of our... main characters, shall we say. ("Hero" would be a bit out of place, to say the least.)






And here we have Kirika, our second protagonist. Her manner is almost always demure and emotionless, even when her actions are at their most brutal.






Some random shots of one of the "villians", Cloe, one of Mireille's many flashbacks, and that seemingly omnipresent pocket watch.






The show features some truly beatiful landscape shots that seem to have a watercolor quality.



| | |
| --- | --- |
| Volumes 1 - 4 | Volumes 5 - 8 |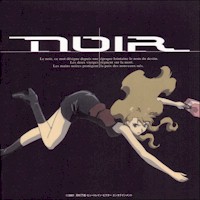 Track 2 - Les Soldats
Track 15 - Liar You Lie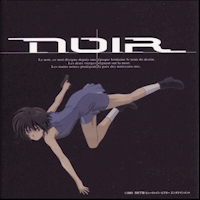 Track 6 - Colusseum
Track 13 - Canta per Me II