Quick Links:
5 Centimeters per Second
Production Studio: CoMix Wave
Region 1 Publisher: ADV Films
Debut Date: 03/03/07
Additional Information:
Created by: Makoto Shinkai
Short Title: 5cm/s
Reviews for this Anime:
About this Anime:
Cherry blossom petals fall to the ground at 5 centimeters per second. When Akari Shinohara says this to Takaki Tono, she's about to move far away with her family, leaving Takaki behind in Tokyo.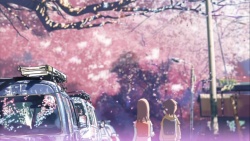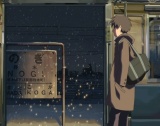 A rocket crawls to its launch pad at 5 kilometers per hour. Kanae Sumida tries to bring Takaki down to Earth long enough to notice her.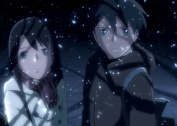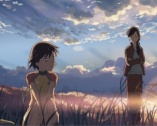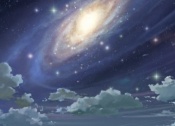 Adult Takaki is a programmer in Tokyo. At a railroad crossing, he sees a girl out of the corner of his eye, and feels a pang of nostalgia. He turns to face her, but now a train obstructs his view....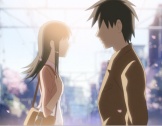 These three stories make up Makoto Shinkai's film about youthful love and loss.