Quick Links:
Interview with a Singing Cellist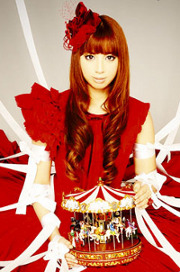 Interview with: Kanon Wakeshima
Interviewed by: Matt Brown on July 19th, 2009
Location: E-mail
Publication Date: July 31st, 2009
The following interview took place after Ms. Wakeshima's performance at Otakon. We thank Mr. Ryu Takahashi of Sony Music Entertainment, for arranging the interview for us, as well as transcribing and translating Ms. Wakeshima's answers. We owe you one, Takahashi-san. Also, sincere thanks to Wakeshima-san for her thoughtful answers, and for taking the time to respond.
If you got here by a more direct route, be sure to check out our Kanon Wakeshima spotlight too!
(Note: the interview transcript received a few minor edits for clarity.)
Anime Dream:

Your profile says you have experience with the baroque cello. Do you feel that it has any advantages over the modern-style cello? Which type do you prefer?

Kanon Wakeshima:

The playing style and the melody construction are very different between the two. I was able to discover those differences from my experience in baroque music. There are also certain elements that I can adapt into the modern music, so it was a great experience studying the baroque cello. I enjoy both baroque and modern music.

Anime Dream:

Could you describe any challenges you faced when you first added vocals to your cello performances?

Kanon Wakeshima:

Yes, it was difficult at first, but I practiced at first just talking while playing the cello.

Anime Dream:

The accompaniment in some of your music has a music-box sound, which when combined with the cello conjures up images of a fairy tale—a Rapunzel-like beauty under lock and key, perhaps also controlled by another.

In this setting, would you see yourself as the puppet master, pulling the strings, or the one being controlled? Is your audience under your control, or are we sympathetic bystanders?

Kanon Wakeshima:

As an expressionist, it is very important to stay level-headed. Whether it's a live show or a recording session, I always have a clear vision of how I want the audience to feel. So perhaps I'm on the controlling side.

For example, there is a story about this person who had a mermaid, and he was gradually getting fascinated by this mermaid, and that he doesn't even notice that it was he who was getting controlled. So in the same way, I'm performing as the doll in the "still doll" video, but I'm actually thinking how to capture the audience through the performance.

Anime Dream:

Can you tell us the story behind your album title, and what it's been like to work with Mana-sama so far?

Kanon Wakeshima:

The theme of this album is "a girl who exists in a world between a girl and a woman." So I chose the word "Dolce" to represent the cute & girly side, and the word "Shinshoku" as a symbolic representation of the darker side, and expressed the combined world.

Mana-sama is very professional towards music. He is always trying to create something better, and I'm learning so much from him.

(Ed. note: the word "dolce" is Italian, meaning "sweet." The term is often used on musical scores to indicate, "play sweetly.")

Anime Dream:

Do you get any of your ideas for music from your drawings, or vice versa?

Kanon Wakeshima:

So far I've been writing the lyrics after listening to the music which Mana-sama wrote, so all the ideas and inspirations for the lyrics are coming from the music. I do however get inspiration for my drawings from the finished songs.

Anime Dream:

Who would you say are your influences, when it comes to drawing?

Kanon Wakeshima:

Alphonse Maria Mucha & Sakai Hoitsu.

Anime Dream:

While the cello seems mostly absent from the artwork on your web site, strings and ribbons appear in many places, especially in the pictures featuring dolls.

Do you draw dolls to capture the feeling of playing the cello?

Kanon Wakeshima:

Well...not really. (smiles)

Anime Dream:

Is this your first trip to the United States? Is there anything you plan to see or do outside of your performances?

(Definitely have broiled crab cakes somewhere!)

Kanon Wakeshima:

Yes, it's my first visit to America. I went to Otakon for work, so I unfortunately didn't have that much time to check out the booths. I would have loved to spend more time at the booths as a visitor. But I did have the crab cakes. (laughs)

Anime Dream:

Is there a routine you go through when getting ready for a performance? Want to tell us about it?

Kanon Wakeshima:

There's actually nothing special....(smiles)

Anime Dream:

How does it feel to have fans outside of Japan?

Kanon Wakeshima:

I am very grateful for it. I feel that Japanese culture has been recently starting to draw attention throughout the world, so I hope that conventions like these will spread the culture even more.

Anime Dream:

Is there anything that you particularly enjoyed about performing in America?

Kanon Wakeshima:

My songs aren't really the type of music that makes people dance, but I'm glad that everybody enjoyed it!

Anime Dream:

We hear that your visual artworks will be on display in Los Angeles on July 21st.

Is this your first exhibit? Do you have any plans to sell your original drawings or prints?

Kanon Wakeshima:

I once displayed 20 of my own original artworks at Laforet Harajuku, during their "Individual Fashion Expo." If I ever get a chance, I would be interested in selling my artwork too.

(*translator note – after this interview, she actually did sell her work at the Royal T Café event)

Anime Dream:

Can you tell us anything about what you'll be working on when you return to Japan?

Kanon Wakeshima:

I have my own concert coming up on August 9th in Tokyo, and I'm also working on my new song, so I hope to get that out this fall.

Anime Dream:

Finally, is there anything you'd like to say to your fans?

Kanon Wakeshima:

Otakon was really fun! If I ever get a chance to perform overseas again, I would love to go anywhere, so I hope to see you then!